Northamptonshire Police photograph car crash snappers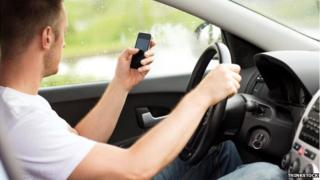 Motorists caught on camera using their mobile phone to snatch images while driving past a traffic accident could face prosecution, police say.
Officers at the scene of a crash on the A45 in Northamptonshire took pictures of motorists taking photographs as they drove past on the opposite carriageway.
Insp Jen Helm said she was "amazed" people could think it either "appropriate" or respectful".
"We will now be seeking prosecutions against those people," she added.
Pictures were taken of photo-taking motorists using the westbound carriageway of the A45 about 16:00 BST on Monday. Officers had been called to the crash there, near Great Doddington, which involved a large van that came off the road and rolled over.
Two people, the driver and his passenger, were airlifted to hospital with serious but not life-threatening injuries.
While the other emergency services were working at the scene, police officers noticed a lot of motorists on the opposite carriageway were taking footage of the incident on their mobile phones.
So they took out a camera and began taking pictures of those motorists, who officers say will now face prosecution for committing a driving offence.
Ms Helm said: "I am amazed that people think there is nothing wrong with using their mobile phones to take pictures while driving, and secondly that they think it is in any way appropriate or respectful to the victims of that collision.
"What might be a great Facebook update for one person could picture the spot where someone's daughter or father took their last breath.
"Using your mobile phone while driving can and does lead to serious injury and sometimes fatal road traffic collisions.
"The drivers we photographed all gambled with other people's lives that day. When it does go wrong, I promise no photograph in the world will make the family of the victim think it was worth it."