Facebook photo revealed two-year-old's eye cancer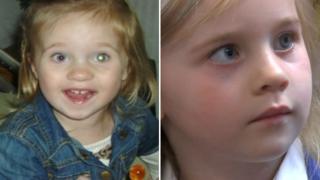 The parents of a four-year-old girl found out she had a rare eye cancer after a photograph was posted on Facebook.
Gracie Hyland, from Northampton, was two when a friend saw the image and noticed a glow in her left eye.
It was discovered Gracie had eye cancer, or retinoblastoma, and had to have the eye removed in 2011.
Parents Jodine and Russell Hyland want to raise awareness of the condition and the Childhood Eye Cancer Trust (CHECT).
Mrs Hyland said the loss of Gracie's eye was "heartbreaking".
"It's a special bond between you and your daughter - looking into their eyes," she said.
"So for me it was a massive loss."
The family were supported by CHECT, one of the only charities that helps children with eye cancer and their families.
'Early diagnosis'
"It's quite a fast-growing cancer, so literally every week would make a difference," Julie Firth, from CHECT, said.
"Early diagnosis is crucial in order to offer the child the best chance of getting treatment quickly to save their sight, to save their eyes and essentially to save their lives."
Every six months Gracie sees an eye specialist for a new plastic eye, which they colour-match with her real eye.
Gracie said: "They take it out first, then they wash it and then they put it back in and it feels good."
Now Mr and Mrs Hyland have made a film about Gracie and the work of the charity.
Childhood eye cancer affects one in 20,000 youngsters.