Northamptonshire Police tags check offenders' drinking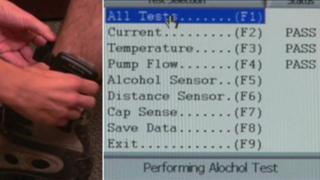 People who commit a crime while under the influence of alcohol could avoid jail by agreeing to wear a tag, which monitors if they stay sober.
Northamptonshire Police says tags will be offered to some people who have committed "low-level crimes" over the next six months and vow not to drink.
Police and Crime Commissioner Adam Simmonds said he hoped the trial would help reduce violent crime.
"We want to see how this impacts on people's behaviour," he said.
The force, which says the trial is the first of its kind in the UK, is starting off with 15 tags and has already ordered 10 more.
They will be fitted to the ankle of offenders and will automatically sample their perspiration every 30 minutes, 24 hours a day, for signs of alcohol consumption.
A spokeswoman for the police said the trial cost £25,000, paid for by the office of the police and crime commissioner.