Call for a wider survey of Northampton Roses battlefield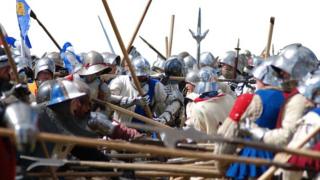 The authors of a study which failed to identify the true site of the 15th Century Battle of Northampton have called for a wider investigation of the area.
Northampton Borough Council currently wants to grant permission for sports fields on the battlefield site near Eagle Drive.
But the Delapre Abbey land was the scene of a decisive battle in Wars of the Roses in 1460 and has never been fully surveyed by archaeologists.
A council-backed Conservation Management Plan is now recommending that a wider survey be undertaken in an attempt to determine the battlefield's true boundaries.
At the Battle of Northampton, an army of up to 10,000 Lancastrians under Henry Vl set up a fortified camp that was besieged and overcome by a Yorkist army of about 15,000.
They were led by the "Kingmaker" Richard Neville, Earl of Warwick, and the 18-year-old future Edward lV, then known as the Earl of March.
The site of this camp where Henry Vl was captured and forced to make a settlement has never been found.
It is also believed that field artillery was used for the first time in medieval Britain at the battle.
Some areas were disturbed by railway embankment building in the 19th Century; later by gravel quarrying and subsequently by the laying down of a golf course.
Glenn Foard and Tracey Partida, authors of the Conservation Management Plan, said the Battle of Bosworth in Leicestershire was recently investigated and the actual site was found to have been about two miles from the registered battlefield.
They do not want the same to happen at Delapre and say mass graves may exist in some areas which have lain undisturbed over the centuries.
If artillery was used then there should be metal remains of the canon balls but they would be buried well below the surface as parts of the site have been subject to flooding and sediment build-up.
Some of the site has been designated for a memorial pitch in honour of Northampton-born footballer Richard Butcher who died of a rare heart condition aged 29.
A spokesman for the council said: "The conservation plan will determine what options there are for establishing a memorial pitch.
"We know that historically this is a very important site."
The Richard Butcher Memorial Charity has been set up to continue fundraising on the understanding they will be granted a lease on land near Eagle Drive for a football pitch.