Northamptonshire County Council's £47m building approved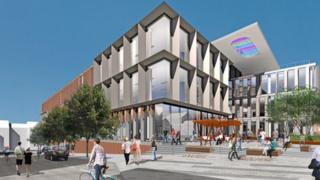 Work on a new £47m county council office in Northampton is expected to start early next year after planning permission was granted.
Northamptonshire County Council said the building in Angel Street would replace 12 buildings it could "no longer afford".
A spokesman claimed it would save £54m in maintenance costs over 30 years.
The building, approved by the borough council, is expected to house all 2,000 county council employees.
A building contractor will be chosen in the autumn.