Corby Town football fan fund target rises to £10,000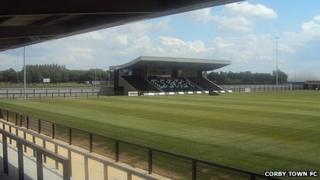 A fans' fund set up to stop a non-league football club going into administration has increased its target after reaching its initial goal.
Corby Town faces collapse, claiming it is owed £200,000 by Corby Borough Council - which the authority disputes.
The fund reached its £3,000 target within weeks after donations from supporters, MPs and fans.
Robbie Dunion, fund creator, said it is now hoped £10,000 can be raised to help fill Corby's "huge black hole".
The Steelmen claim they are owed money as part of a deal struck in 2007 in which they would be paid £90,000-a-year to manage the council-built Rockingham Triangle community sports facility, near the team's Steel Park home.
Boycotted matches
However, the authority said the club's claims contain "factual inaccuracies" and is seeking legal advice.
The club's financial crisis has led to unrest, with players boycotting matches over unpaid wages.
An online fund was set up by the fans last month, backed by a social media campaign and dramatic YouTube plea, to help the club avoid administration until the legal dispute is over.
Mr Dunion said the support had been "fantastic", with £820 alone being raised at the turnstiles at the club's last home game of the season against Bedford.
He said some of the fund - currently at £3,700 - would be used to pay off a player registration bill, with the rest being used for "specific purposes" to ensure "complete transparency".
He added that with the club being taken over by new owners this week - in the form of a consortium of seven local businessmen - the club's position was looking "more positive", but he said there was still "a lot to be done" to make the club "sustainable".
The new owners and the supporters' trust are due to meet on Monday so fans can vote on how the money should be spent.