Digger driver fined for hitting colleague in head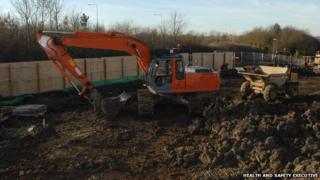 A digger driver who hit a colleague in the head with the bucket of his vehicle has been made to pay £4,000.
Gary Draper, 54, had been using his mobile phone while operating the digger at a site in Milton Keynes in 2012, a Health and Safety Executive (HSE) investigation found.
The man sustained fractures to his jaw and a collapsed lung, the HSE said.
Draper, of Oakpits Way, Rushden, admitted the offence at Milton Keynes Magistrates' Court on Friday.
He was made to pay £2,500 compensation and costs of £1,554.
'Became complacent'
Speaking after the hearing, HSE inspector Stephen Manley said construction vehicles could be "highly dangerous" if used without complete care.
"This incident could easily have been avoided if the operator had followed site rules and not become complacent about his responsibilities when operating his vehicle," he said.
The HSE said the injured man, who had returned to the site unnoticed while Draper was using the phone, was in hospital for 10 days after the incident.
He did not return to work until 14 months later and requires further surgery on his jaw.