Red kite dies after 'pot-shot' taken in Wellingborough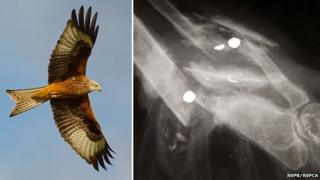 A red kite, one of the UK's most highly protected birds of prey, has died after it was "peppered" with pellets in an act of "mindless cruelty".
The bird was shot in its wing and leg in Wellingborough, Northamptonshire, in early April and was taken for treatment at an RSPCA Wildlife Centre in Norfolk.
It was put down due to the extent of the injuries.
The RSPCA said it was "horrified that someone has taken a pot shot at such a beautiful bird".
Red kites were once close to extinction in the UK and remain a protected species.
Alison Charles, manger of the RSPCA centre in East Winch, said: "Shooting this bird is just mindless cruelty at its worst.
"We do not get many in this area.
"We do not know if this bird was shot for fun, or some other motive, but people need to be aware that shooting a bird like this is a criminal offence and we will continue to prosecute anyone who commits crimes such as these."
Under the Wildlife and Countryside Act it is an offence to take, injure or kill a red kite.
Punishment can include a fine of up to £5,000 and/or a prison sentence up to six months.
The RSPCA is appealing for information.