Cut in capacity of planned Northampton Town Football Club stadium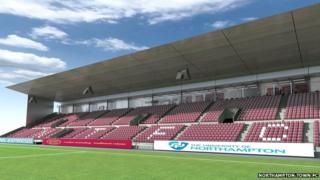 A football club in Northamptonshire has decided to reduce the planned capacity of its multi-million pound redeveloped stadium from 10,000 to 8,500 seats.
Work has started on Northampton Town's Sixfields stadium, which is part-funded with a £12m loan from the council.
The club had planned to increase the capacity of the ground from 7,653 to 10,000 seats.
But club chairman David Cardoza announced extra boxes, a directors' area and a reduction in capacity.
He said four to five new corporate boxes would be vital as "income generators".
Work has already started on the internal work for the stands, including building a new home dressing room.
Mr Cardoza said despite the changes to the plans, the work was on schedule to have the ground ready for next season.
The club has an average attendance at games of 4,000 people.