Northampton Greyfriars: Demise of the Brutalist 'mouth of hell'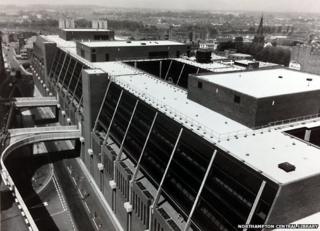 As a form of design, Brutalism has divided opinion for decades. In recent years many examples have been razed to the ground, with Northampton's Greyfriars bus station next in line. So why are some mourning the potential loss of an entire era of architecture?
Northampton's Greyfriars bus station is a relic from a period of bold geometries within architecture known as Brutalism.
Costing more than £40m in today's money, the 1970s building has been the subject of ridicule for decades as an over-ambitious example of bad planning and - for some - its demise cannot come quickly enough.
It was derided by Channel 4 presenter and designer Kevin McCloud as "like a great big mouth of hell" and work on its destruction begins this weekend.
A troubled project from the start, it opened 18 months late in April 1976 after costing more than twice its £3m budget.
More than 175m (574ft) long, with three floors of offices and a car park above the bus bays, it was big enough to double as an overnight garage for many of the town's buses.
In an April 1976 editorial in the Evening Telegraph newspaper, Pat Percival described it as "really remarkable building", while others said it had a "space age" feel.
But local architect Dominic Kramer said the modern view was very different. "It had no respect for the public realm. Where you would have been able to walk out of the town it just severed [access]."
He said town planners, politicians and architects all over the country were emerging in the 1960s from post-war rationing of materials with a new-found freedom.
"I think they believed they were going to create some sort of utopia. The failure of this building [is] it just doesn't integrate [with people] using the town."
With deconstruction set to begin at Easter - it cannot be demolished due to the danger from asbestos - the end of Greyfriars is not only about removing a failed blueprint for Northampton's architecture, it signals the end of another Brutalist building - a period of architecture that it has been argued "produced some of the most sublime, awe-inspiring buildings on the planet".
The World Monuments Fund published a watch list warning that a whole era of architecture could be lost.
The Twentieth Century Society has campaigned to protect the best examples of British Brutalist design, including London's South Bank Centre and Preston's Bus Station.
However, senior conservation adviser Henrietta Billings said Northampton's Greyfriars had "interesting elements" but was not of "outstanding architectural interest or quality" and not worth campaigning to save.
Question marks remain over what will be done with the site, but as another example of Brutalism disappears, is there a chance the mistakes of the past, the knocking down of fine examples of Victorian architecture, or inter-war art deco, could be repeated?
'Beyond repair'
Not according to Mr Kramer. The Brutalist architects got "wrapped up in believing their own rhetoric," he said.
"If a building doesn't work - they are too big to get overtly sentimental about.
"We can argue with hindsight that we knocked down too many buildings from the art deco period of the 1930s. I think we've had enough time as a community [with Greyfriars] to say 'do we want to save it'?
"If it was worth saving, we would have revamped it... this is just failing at so many levels, it's just far too big and continues to block any movement across the town and I think that's far more important to get right."
On Easter Sunday, the bridges that link Greyfriars to the Grosvenor complex will be removed, the first visible sign of the building's slow disappearance from the town's skyline which is due to be complete by the end of the year.
"Greyfriars is beyond repair and its demolition opens up a very large and significant site," said David Mackintosh, leader of Northampton Borough Council.
"With the large regeneration projects that are changing the face of Northampton, this will breathe new life into this underused area of town and become one of the cornerstones for a bigger and better town centre."
Hear more about the "Mouth of Hell" on BBC Radio Northampton at 08:25 BST from 22 - 25 April