Weetabix in talks over staff 'pay cut'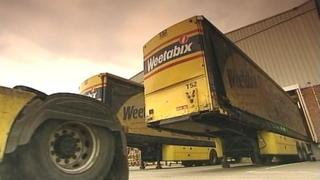 Staff at cereal firm Weetabix are being consulted over possible cuts to pay and working hours, the BBC has been told.
An employee said the plans could see a 10% wage cut for production workers and a wage freeze for other staff.
Weetabix said staff and unions were discussing potential changes to both pay and shifts but refused to discuss specific details.
The company said it needed to be able to "adapt to meet the changing needs of today's modern families".
The company, which also owns the Alpen, Ready Brek and Weetos brands, employs 1,800 workers in Burton Latimer and Corby in Northamptonshire.
Chinese-owned Bright Food bought a 60% stake in the firm in 2012 from Lion Capital in a £1.2bn deal.
'Dynamic and growing'
The Telegraph said a leaked document showed workers on long shifts could have premium-rate pay cut and weekend and night work might be reduced, as the company looks to save millions of pounds and avoid compulsory redundancies.
The newspaper said Weetabix had seen a decline sales, which it blamed on changing consumer habits.
An employee told the BBC that the consultation could also see Weetabix's cleaning division outsourced to try to save money, and called the proposals "pure corporate greed".
In a statement, the company said it was consulting with trade union representatives to "explore potential changes to shift patterns and associated payments".
It added: "Weetabix has always tightly managed its cost base in order to allow the company to drive growth.
"The breakfast category is dynamic and growing, and the company needs to be able to adapt to meet the changing needs of today's modern families."
The Union of Shop, Distributive and Allied Workers (Usdaw) said it was having "ongoing discussions" with Weetabix over a "number of proposals".