Ed Sheeran: Suffolk fans charity shop for pop star's clothes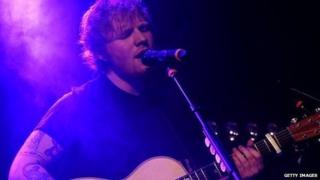 Clothing donated by pop star Ed Sheeran to a charity shop in Suffolk sold for more than £1,000 within 30 minutes.
More than 100 people visited the St Elizabeth Hospice Shop in Framlingham to buy items once owned by the singer.
Sheeran, who has more than nine million followers on Twitter, posted news about his giveaway of "stuff worn on shoots, videos and live" in March.
Until Saturday, the items, given to three charities in Suffolk, were only available to buy at auction online.
'Massive fan'
First in the queue was 15-year-old Chloe from Hethersett, near Norwich, who paid £155 for three jumpers.
She said: "We got up at 6am and my dad drove me here, I wanted to be the first in the queue.
"I have been a massive fan since before he was famous and really wanted to have something he has worn.
"I am so pleased to have got three jumpers, they are so cool."
St Elizabeth Hospice and Sue Ryder shops in the performer's home town of Framlingham were given eight bags of items.
'Exciting week'
Rachail Pollard, manager at the St Elizabeth Hospice Shop, said: "The response to the sale has been great.
"Around 25 fans and their families were queuing outside, some from 8am, from as far afield as Norfolk and Herts. We have been taking lots of calls from America where Ed is huge.
"Everyone was happy to pay for what they wanted as they knew it was going to a good local cause. It has been an exciting week for all of us."
East Anglia's Children's Hospices, where Sheeran is an ambassador, have also taken delivery of eight bags of clothing.