Rothwell couple in 'three-foot land' appeal against neighbours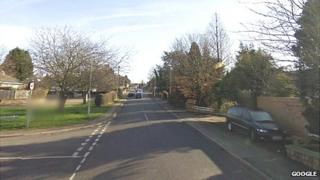 Neighbours at war over a three-foot (0.9m) strip of land have been told their case must go back to the county court by a Court of Appeal judge.
John and Elizabeth Underwood won their right to "rather more than half" of the strip between their house and that of Stephen Mayers and Julia Smith in Rothwell, Northamptonshire, last year.
But, Mr Mayers and Ms Smith chose to appeal against the court ruling.
Lord Justice Briggs said a conflict of evidence meant he could not settle it.
Disputed tree
The appeal court heard the four had together spent hundreds of thousands of pounds in the legal battle over the land, between numbers 71 and 73 in Harrington Road.
It heard the Underwoods, at number 73, wanted access to a passage alongside their garage they claimed had been blocked off, but their neighbours said the strip lay within their boundary.
The Underwoods won the right to part of the strip at Northampton County Court last year, with the decisive evidence based on an old elm tree a witness said created the boundary to the house in 1969.
Mr Mayers and Ms Smith appealed, presenting old aerial photographs that they said showed there had never been an elm tree.
'Might appear inconsequential'
The Underwoods countered with new evidence from witnesses who said they remembered the tree.
They also claimed the photos were unreliable because the elm was cut to a stump at the time they were taken, meaning it would not have been visible from the air.
However, Lord Justice Briggs, sitting with Lords Justice Richards and Beatson, said the Court of Appeal could not resolve the conflict of evidence and sent the dispute back to the county court.
He said that a small piece of land might, to some, appear "inconsequential" when measured against "the hundreds of thousands of pounds of costs incurred in litigating about it".