Growing Corby: European funding boost for town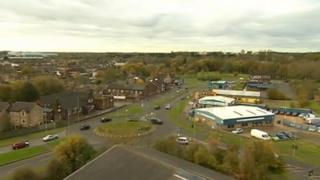 A £1m project has been launched in Corby which aims to attract 50 new businesses to the town.
The Growing Corby scheme, mostly funded by European regional development money, also plans to increase employment with 140 new jobs in the area.
Jonathan Nunn from the Northamptonshire Enterprise Partnership said people are "fighting back" after the town had recently seen hundreds of redundancies.
That "spirit" is "very valuable to an employer," he said.
In March the town was struck by 900 redundancies after Solway Foods, understood to be Corby's second largest employer, announced it would be closing its food packing plant in the summer.
Mr Nunn added: "Corby's fortunes over the years have been up and down and that's brought a sprit out in the people.
"You see a lot of fight and determination to keep going and that spirit is very valuable to an employer... as well as some excellent development sites and commercial premises."
Supporters of the Growing Corby project also include Electric Corby, a not-for-profit Community Interest Company and Corby Borough Council.
Melli UK, a design agency based at the Corby Enterprise Centre, is one of the first businesses to benefit from the scheme. A grant enabled them to buy more equipment.
Company director Mike Dickson told BBC Radio Northampton the investment had made a "big difference both in a personal perspective, in thinking they believe in us, but fundamentally having a piece of equipment that allows us to do our job better and deliver good results."