Northampton nightclub was used 'to launder drugs money'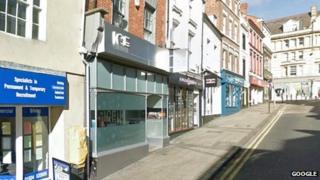 A nightclub in Northampton was used for laundering the proceeds of large scale drug dealing, police have revealed.
In a report on the Ice Lounge, in Bridge Street, police said its owner Joseph O'Neill was jailed for 20 years for conspiracy to supply cocaine.
The report calls on Northampton Borough Council's licensing committee to consider revoking the club's licence.
The committee is due to meet on Friday to make a decision on the licence.
The report says police believe O'Neill, 36, bought the Ice Lounge in September 2011 with "profits from the drug supply operation".
It says the the club was operated by an "organised crime gang" and used to launder the "proceeds of crime, in particular.. trafficking Class A drugs into the county of Northamptonshire and beyond".
It adds that there have also been "numerous incidents of crime and disorder at the premises in the past and more recently".
Police believe "the entire purpose of the Ice Lounge was for a criminal enterprise" and that the council should "seriously consider revoking the premise's licence".
Northamptonshire Police said O'Neill led a gang involved in trafficking £1.3m of Class A drugs.
He sourced high purity cocaine from Cambridgeshire-based criminals and took it to Southampton to sell to members of a Hampshire-based gang.
"It is believed the round trip of around 220 miles was made on 158 occasions," said police.
A council spokesman said at present the Ice Lounge had a licence, but a decision over whether to revoke it would be made on Friday.