Towcester greyhound track: Work due to start next month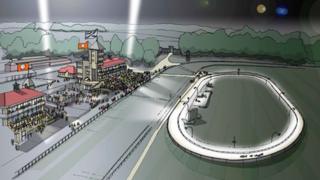 Work is due to start in April on a new £1.5m greyhound track at Towcester Racecourse and it should be open by the end of the year.
Kevin Ackerman, chief executive, said the 420m track would feature a large high definition television race screen.
The plan is to hold 156 meetings a year on a sand track within the horseracing course in front of the main grandstand.
"The infrastructure is already here," Mr Ackerman said. "We've just got to build the track."
The investment in the track comes at a time when some are questioning whether greyhound racing is on the decline, with recent closures of circuits in Oxford, Portsmouth, Reading and Milton Keynes.
International audience
But Mr Ackerman said £10m worth of improvements had been made at Towcester in the past eight years.
"A number of the greyhound and horseracing tracks which have closed didn't have that investment," he said.
The greyhound track is being built to maximise the use of Towcester, which currently hosts 17 horseracing meetings a year.
New high technology lighting will be installed around the greyhound track for the evening meetings and for television coverage at the racecourse and further afield.
"The plan will be for Towcester greyhound racing to beamed internationally, to Australia, South America and all across Europe," Mr Ackerman said.