Corby's Solway Foods: Factory to shut with 900 jobs lost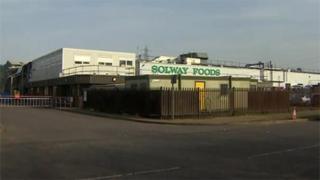 All 900 jobs at a food processing plant in Northamptonshire are to go with the closure of the site, workers have been told.
The owners of Solway Foods, which packs salads for supermarkets, had announced 500 job cuts at its Corby plant last week.
But earlier the workforce was told the remaining 400 jobs would go with the factory's closure in the summer.
The firm said it regretted the closure but the factory was not viable.
The company, which is is understood to be the town's second largest employer, had launched a consultation on the proposed plant closure in February.
'Much regret'
A spokesman said: "It is with much regret that we can confirm that, following a 45-day consultation period, we are closing our Solway Foods site in Corby.
"During consultation we have fully explored all the options available to us. Sadly, the fact remains that the site is no longer viable."
The spokesman added the company would help to find its employees new jobs elsewhere and where possible redeploy staff among the parent firm, the 2 Sisters Food Group.
The firm has other factories in Nottingham and Manton Wood, in Nottinghamshire, and Heanor in Derbyshire.
Mr Sawford, MP for Corby and East Northamptonshire, said: "Various offers were made to support the company, including an offer to help with relocating to a new site in Corby and I am disappointed that Solway were not prepared to look at this option."
However, he said the emphasis would now switch to getting former Solway employees into new jobs as soon as possible and revealed that the Northampton-based sandwich maker Greencore is looking to hire 200 new people.