Northamptonshire domestic violence refuges reprieved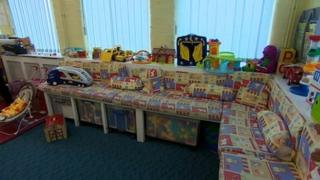 The planned closure of refuges that protect female domestic abuse victims in Northamptonshire has been halted until operators can find other funds.
The county council said it would extend funds to the county's 68 refuge places after a government grant was cut.
But the reprieve would only last until September, it added.
Wendy Lovell from Northampton Women's Aid said it was unlikely all places could be saved, but that saving as many as possible would be its priority.
The charity, which provides some accommodation, has warned that lives could be put at risk if the emergency centres, which cost £750,000 a year to run, were forced to close.
No staff funding
The refuges had been funded by the government's Supporting People programme, but money for staff to run them is no longer available.
Victims of abuse will continue to be eligible for financial help enabling them to live independently or in bed and breakfast accommodation.
Northamptonshire County Council has asked organisations to tender for services for abuse victims, but has not included a requirement to provide centres.
Ms Lovell said it would be "unrealistic" to think that 68 places could stay open, but that the charity was looking to "talk some more to see if we can save at least some."
Robin Brown, cabinet member for health and adult social services, said the authority would back the refuges from July until September and continue to work with operators on funding.
A report by former Labour Northampton North MP Sally Keeble said Northamptonshire Police dealt with 12,211 incidents of domestic abuse in 2011-12.