Kettering's grammar school mosaic bound for car park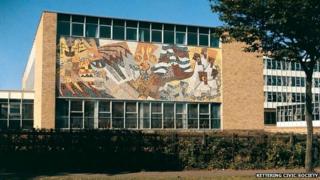 The owners of a giant mosaic depicting the history of Kettering say they are "confident" they can get it back on public display in the town.
The artwork used to be on Kettering Grammar School, but was removed in 2007 when the building was demolished.
The Kettering Civic Society is applying for £30,000 from the Heritage Lottery Fund to mount it on the front of the Newlands Shopping Centre car park.
The mosaic, which measures 45ft by 15ft (14m by 4.5m), is currently in storage.
'Impressive' scale
The mosaic, created by Kenneth Budd for the grammar school buildings in Windmill Road in the 1960s, depicts parts of the town's coat of arms with elements of manufacturing in the town such as shoes, clothing and cartons.
Paul Ansil, chairman of the society, said: "The scale of this modern mosaic is very impressive and we've worked hard to save it, store it and we're confident it will now find a new home after an eight-year break.
"It will bring a pictorial depiction of the history of Kettering back to the town itself."
The car park is on one of the earlier sites used by the grammar school before the shopping centre was built there.
The society said it had an agreement with the owners of the shopping centre to put the mosaic on the car park.
It said it was hoping to get lottery funding to pay for the work.
The mosaic was removed from the former grammar school in newspaper-sized sections when the buildings were demolished to make way for the new Tresham Institute.