Man killed himself after Stinson Hunter 'paedophile trap'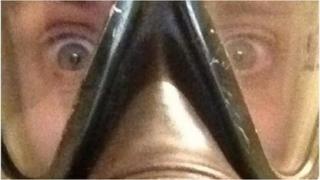 A man snared by an internet "paedophile hunter" killed himself days after police had questioned him, an inquest has heard.
Michael Parkes, 45, was confronted and filmed in May last year by Stinson Hunter, who had arranged to meet him after posing as a child online.
Mr Parkes was later arrested by police but had not been charged.
Northamptonshire Coroner Anne Pember recorded a verdict of suicide, with the cause of death as hanging.
Mr Parkes was arrested by Northamptonshire Police on 29 May last year on suspicion of meeting someone he thought to be a 12-year-old girl for sex.
Videos posted online
In a statement after the inquest, the force said it would have sought a charging decision based on the evidence supporting the allegation.
A force spokesman said: "It is clear that Parkes drove to Coventry with the intention of engaging in sexual activity with a child."
Stinson Hunter, who changed his name from Keiren Parsons, has caused controversy by posting videos of his meetings online and has been criticised by police for his methods.
At the inquest at Northampton General Hospital, the coroner said Mr Parkes, a warehouse manager and father of one, was "feeling low and depressed" at the time of his death on 2 June last year.
The inquest heard he was found dead in his car with a ligature around his neck.
Mr Parkes, who lived with his mother in Hemans Road, Daventry, was removed from the car. A passing doctor led efforts to resuscitate him but he died at the scene.
Dr Alexander Wennekes, a GP, said he had prescribed anti-depressants to Mr Parkes for bouts of work-related stress and depression.
Dr Wennekes said that earlier in 2013, Mr Parkes complained of feeling depressed after splitting from his partner of three years while she was pregnant with their son.
He said Mr Parkes, who also had a wife from whom he was separated, contacted the surgery again on 30 May, saying he was suffering depression.
'Deeply shocked'
"When I saw him he said he was going through a bad patch, had financial difficulties, no access to his son and had been arrested by the police on what he said were false allegations - however, he did not explain further," said Dr Wennekes.
Mr Parkes' brother Richard said the arrest "had a significant effect on his state of mind and the actions he had taken".
Following the inquest, he said: "The police have not provided me with any evidence that supports these allegations."
Paying tribute to Mr Parkes, he said: "Michael's family are deeply shocked by his death.
"He was a loving father, son and brother and a caring person who put his family and others first."
'Serious consequences'
After the inquest, Mr Hunter, from Warwickshire, said he did not feel responsible for Mr Parkes' death.
"I feel for his family and it's a shame for them, but ultimately he made his own choices," he said.
"I have done the right thing. He had been arrested and bailed."
Northamptonshire Police offered its condolences to Mr Parkes' family.
"We have a duty to investigate and respond to child abuse allegations," a spokesman said.
"A decision to arrest Parkes was made when it became clear from the material supplied to us that he believed the age of the person he was in communication with was 12 years old.
"In the light of Parkes' subsequent death, a thorough review was carried out and it is clear that it would have passed the threshold test and that Northamptonshire Police would have sought a CPS charging decision."
The spokesman added: "We do not condone or support the actions of Stinson Hunter."
Separately, Warwickshire Police and West Mercia Police issued a joint statement stating they did not condone his methods and adding that his actions "could have several serious consequences", including compromising continuing investigations.