Northampton bus station: More changes to prevent gridlock repeat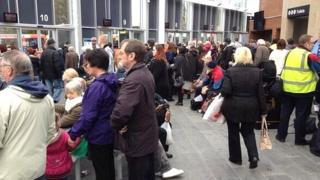 Vehicles will be restricted on some routes in Northampton after the opening of a new £7m bus station gridlocked the town on its first day.
Problems started at about 11:00 GMT on Monday, with buses left at a standstill and queues of passengers.
Engineers worked throughout that evening to make alterations to most of the known problem areas.
But further temporary time restrictions will now be implemented in the centre, the county council said.
Northampton Borough Council said the "teething problems" were caused by traffic light "phasing" and increased traffic.
'Tremendous improvement'
Changes so far include the creation of new yellow box junctions, a new road layout at the junction of College Street and Bradshaw Street and the banning of cars, except taxis, from Drapery Street.
Vehicles will now also be banned from travelling southbound along Sheep Street between 10:00 and 16:00, except for taxis and buses, and no lorries or vans can unload along Drapery Street between the same times.
Michael Clarke, county council cabinet member for transport, said the borough and county councils, the bus companies and the police, had all met this week to discuss what can be improved.
"There has been tremendous improvement in the traffic situation around the bus interchange since the problems," he said.
"We will continue to monitor the situation closely to make sure that all the measures introduced work as expected, and continue to meet regularly until we are satisfied that this is done."