Northampton road changes prevent gridlock repeat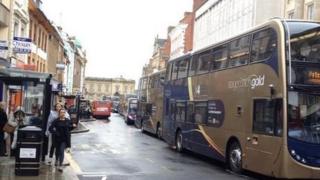 Engineers worked through the night to prevent a repeat of gridlock which occurred on the opening of Northampton's £7m bus interchange.
Problems started from about 11:00 GMT on Monday with buses left at a standstill and queues of passengers.
Northampton Borough Council said the "teething problems" were because of traffic light "phasing" and increased traffic.
It worked with county council engineers overnight to change the road layout.
Changes included new yellow box junctions, a new road layout at the junction of College Street and Bradshaw Street and banning cars, except taxis, from Drapery Street.
Northampton Borough Council said that pedestrians "crossing the Drapery and Sheep Street against the traffic signals" and "the phasing of the traffic lights on Bradshaw Street and the Drapery" helped cause "a sudden increase in traffic" on Monday.
The council's leader David Mackintosh said: "The very difficult situation we faced happened very suddenly.
"I know that buses are vital to our town and it is absolutely critical we get it right."
He added that Northamptonshire County Council engineers had been on site all morning "ready to respond if things begin to go wrong".