Northampton's new bus station opens with gridlock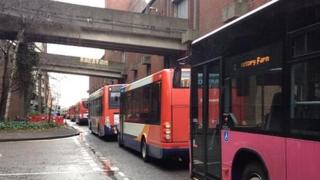 The centre of Northampton was left in gridlock and police were brought in to manage traffic after the opening of a new £7m bus interchange.
Problems started from about 11:00 GMT with lines of buses at a standstill and queues of passengers building up.
Northamptonshire Police said they closed College Street to traffic because of the problems.
Northampton Borough Council and the county council said they were working to ensure the problems did not recur.
Later Northampton Borough Council and Northamptonshire County Council issued a joint statement which said: "We are looking at the traffic management plans as a matter of urgency to ensure that there is no repeat of the problems we have seen today.
"We knew that there would be teething problems as there are bound to be with any such major project and we acknowledge that these were major.
"We apologise to all the motorists and bus passengers who were caught up in the delays and we thank them and acknowledge their concerns."