Northampton's new £7m bus station opens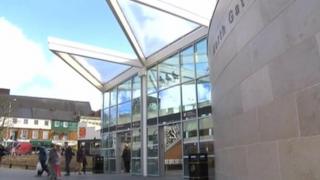 A new bus station has opened in the centre of Northampton.
The first buses began operating at the £7m interchange at North Gate on Saturday.
Demolition work on the old Greyfriars station, which was "beyond repair" and would have cost £30m to refurbish according to the borough council, will begin in April.
Demolishing Northampton's bus station as part of a plan to redevelop the town centre will cost £4m, the council said.
The work is expected to take 18 months to complete and will also require knocking down a large car park and offices.
Demolition would also enable the possible expansion of the nearby Grosvenor Shopping Centre, which the council is discussing with its owner Legal & General.
Northampton Borough Council leader David Mackintosh said: "Greyfriars has become a real embarrassment for people coming into Northampton and really was not fit for purpose.
"Change is always difficult and some people will take a while to get used to [the new station] but hopefully they will see it's a big improvement on Greyfriars, and when we can develop that site after demolition it will really help us to enhance Northampton further."