Husband killed wife on her birthday and then himself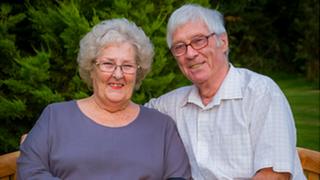 A man shot his wife dead on her birthday and then took his own life, an inquest has heard.
The bodies of Donald Knight, 78, and his wife Margaret, 77, were found at their home in Loddington, Northamptonshire, last May.
The coroner recorded a verdict of unlawful death in the case of Mrs Knight and suicide in the case of Mr Knight, who was her main carer.
The inquest heard Mr Knight had been feeling ill and believed he had cancer.
The inquest in Northampton heard Mr Knight, former chairman of Kettering haulage firm Knights of Old, used a rifle to kill his wife and also shot the couple's Dachshund Daisy.
Coroner Anne Pember said in her closing remarks: "I believe when Mr Knight was feeling low and depressed, not only did he take his own life. I believe he made a decision that his wife, of whom he was the main carer, should die as well, on her birthday."
Found by daughter
The inquest heard the couple were devoted to one another and enjoyed going on three-month round-the-world cruises together but, in the run-up to their deaths, Mr Knight had been feeling low.
The inquest heard Mr Knight was his wife's main carer after a back operation five or six years previously meant she had mobility problems and used a motorised scooter.
In April last year he visited his GP, Joanne Warcaba, and told her he was feeling down, had no appetite and had lost a lot of weight, was unable to sleep, and had experienced thoughts about killing himself, albeit fleeting ones.
The couple's daughter found Mrs Knight dead in a chair in the lounge. Mr Knight's body was found outside on the patio, with a single fatal shotgun wound to the head.
Professor Guy Rutty told the inquest Mrs Knight's injuries were not caused by the shotgun - evidence from other witnesses explained that Mr Knight also owned a rifle - she was shot four times; twice in the abdomen area and twice to the right hand side of her head.
In a statement family members said: "We are devastated by this tragic news and thank people for their kind words.
"Donald and Margaret were a couple who loved each other's company. They were lovely parents and grandparents whose passing is a massive loss to our lives."