Northamptonshire County Council backs £126m of savings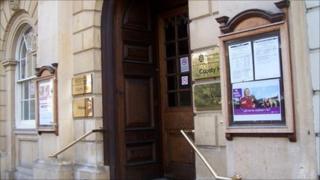 A package of £126m of savings over the next five years has been agreed by Northamptonshire County Council.
The full meeting of the council also backed a plan to increase its part of the council tax by 1.99%.
The authority has not proposed any large-scale job losses, but some posts will go, for example in the archives and heritage department which aims to save £75,000 through staff reductions.
The Conservative-controlled council backed a £428m budget.
Councils in England have been hit by cuts to government grants and the downturn in the economy.
'Innovation and efficiency'
Councillors backed plans to cut £97.5m through efficiency savings between now and 2018-19.
The council is also making £18m of savings in adult social care in 2014-15 with savings made through increased charges for support and greater contributions from people seeking help.
The authority also backed an overhaul of health provision to cutback on duplication of services by the council and NHS.
Cabinet member for finance Bill Parker said: "The budget approved today outlines how we will now build on this work and look at how we can bring such innovation and efficiency to front line services.
"I am delighted that despite the significant pressures we face we have agreed a budget which once again sets our council tax as the lowest in the land while protecting those front line services which mean the most to people."
At present the council has about 3,000 posts, excluding teachers.
Last year the council announced up to 300 job cuts in a bid to meet a £33.6m budget shortfall in 2013-14.