£126m of savings go before Northamptonshire County Council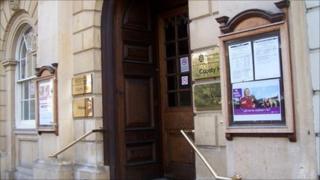 A savings package worth £126m over the next five years has been put forward by Northamptonshire County Council.
The council has also announced plans to increase its part of the council tax by 1.99%, just below inflation.
The authority is not proposing any large-scale job losses, but some posts will go, for example in the archives and heritage department which aims to save £75,000 through staff reductions.
The full meeting of the council is due to set the £428m budget on 20 February.
'Services review'
A report to the council says it aims to cut £97.5m through efficiency savings between now and 2018-19.
It proposes £18m of savings in adult social care in 2014-15 with savings made through increased charges for support and greater contributions from people seeking help.
The council is also proposing savings of £513,000 are in children's, families and education (excluding schools) services.
Part of the savings will be achieved by withdrawing a £50,000 subsidy from the newly created Northamptonshire Music and Performing Arts company - which provides music education services.
Between now and 2018-19 the council hopes to save £12m from its chief executive services by a strategic review of services.
There could also be a cutbacks on any duplication of services by the council and NHS.
Last year Conservative-controlled council announced up to 300 job cuts in a bid to meet a £33.6m budget shortfall in 2013-14.