Mavis Clift fire death: Family threatened 'for months'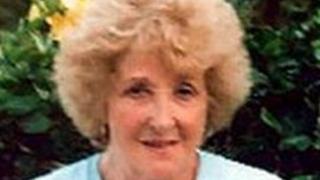 A man who started a house fire that killed his mother-in-law had been threatening her family for five months, an inquest has heard.
Mavis Clift, 75, died from smoke inhalation after petrol was poured through the letterbox of her home in Northampton on New Year's Day in 2008.
The inquest heard Paul Barber started harassing his wife Susan Barber after he separated from her in early 2007.
Mr Barber died in 2009 while awaiting trial on charges relating to the fire.
Giving evidence at the inquest into Mrs Clift's death, Mr Barber's sister Paula Lloyd Chamberlain said he had been a successful businessman until he was diagnosed with Parkinson's Disease and started self-medicating.
'Psychotic episodes'
She said the medicine made him "totally irrational" and "obsessive".
He once tried to hand himself into the police, she said, but was turned away and told there was a long waiting list for mental health care.
She told the inquest in Northampton that by 2007 Mr Barber's own family were terrified of him and that he had psychotic episodes, calling her day and night, having imagined people on his roof.
He became obsessed with Mrs Barber, she said, and even failed to help organise their father's funeral because he was so focused on stalking her.
In a statement, Mrs Clift's husband William said his stepdaughter Mrs Barber had moved back in with them because she was so frightened of her estranged husband.
He said her tyres were slashed three times and that he was woken by the sound of fireworks being let off in their garden.
'Hit with belt'
When the fireworks box was tested, Mr Barber's DNA was on it.
Mr Clift said that even his neighbours had reported Mr Barber to the police because he was so often seen in the area.
He said he began escorting Mrs Barber to and from work because he was worried about what Mr Barber might do to her.
On one of these journeys, he said, Mr Barber hit him in the face with a belt buckle and punched him.
He reported the assault and other incidents to police, but the inquest heard the call handling system in place at the time was unable to link them together, meaning each was logged as a new crime.
It also would not allow for operators to search manually to find a caller history, the inquest was told.
The inquest continues.