Delapre Abbey trustees resign over 'breach of agreement'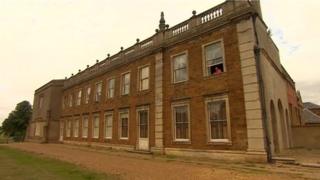 A board of trustees set up to oversee an abbey's restoration have resigned over a "breach" of an agreement with Northampton Borough Council.
Delapre Abbey Preservation Trust (DAPT) resigned after the council proposed the inclusion of a Friends of Delapre Abbey member on a "joint project board".
The council wanted to add the member to recognise the body's help in winning a £3.6m Heritage Lottery Fund grant.
Former chairman Bill Wright said the move made it "impossible to continue".
He said trustees had "been given no alternative but to resign", which they did with "very great regret".
'Simple request'
A DAPT spokesman said the move had "compromised their positions, making them unable to continue properly to fulfil their duties".
Mr Wright said the DAPT had been "operating successfully under a legal agreement [with the council] since June, which resulted in the Heritage Lottery Fund granting us £3.6m to restore the abbey".
Council leader David Mackintosh said the authority were "disappointed that the Delapre Abbey Preservation trustees have chosen to resign".
"The abbey is part of our town's heritage and a much loved asset enjoyed by the whole community [and] we wanted to see everyone with an interest working together as we look to bring the building back into use."
He said that the council had "asked that the Friends of Delapre Abbey have representation on the joint project board that is being set up to bring everyone together to oversee the restoration".
"Unfortunately, this simple request appears to have been unacceptable to DAPT."
The restoration of the abbey is one of the council's key heritage projects.