Dementia diagnosis for The Enid's Robert John Godfrey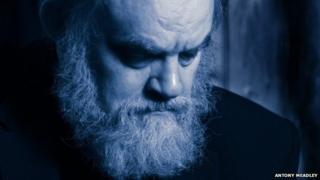 A musician who has led a cult British band for 40 years says he has "lost any fear" about being diagnosed with dementia.
Robert John Godfrey, of symphonic rock band The Enid, has been told he has the early stages of Alzheimer's Disease.
The 66-year-old musician and composer said the band can carry on without him.
"I'm not fearful of the future and I've made the decision to retire and I'm looking to stop participating on stage as soon as possible," he said.
Godfrey formed the group in Kent in 1974 and has been the only ever-present member during a 40-year career of ups and downs.
The band, which is currently a six-piece based in Northampton, was signed to EMI and Pye in the 1970s, but has released its albums independently since the 1980s, partly relying on financial support from fans.
More recently they filled the Birmingham Symphony Hall with accompaniment from the the City of Birmingham Symphony Orchestra and poetry from graphic novelist Alan Moore.
'Scary episode'
"I have had a great life doing nothing but music - I lost any fear of death many years ago and the story of my life will come full circle as indeed it must," he said.
Godfrey, who plays keyboards, said he went to the doctor after a "scary episode" in his car when he forgot how to get home.
"I was diagnosed with minimal cognitive impairment - I've still got all my marbles, but I'm not as fluent in marshalling my thoughts or remembering names and places.
"Creatively, it's unlikely I'll have problems with my ability to play until the very end.
"I'm hopeful I'm not somebody who will descend into frustration and anger and start throwing things.
"I hope I'll just gradually sink in to childhood and be a happy little thing, but there's no way of knowing how this is going to pan out."
Chris Quince, spokesperson for the Alzheimer's Society, said: "While research has shown that dementia is the most feared condition for people over 50, it is possible to live well with it.
"A timely diagnosis is vital to enable this to happen as it opens the door to support, information and potential treatments.
"It also gives people the opportunity to plan for the future."