Paul and Sandra Dunham fight extradition to US on fraud charges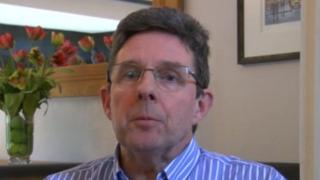 A British couple are fighting extradition to the US on fraud and money laundering charges.
Paul Dunham, 58, and his wife Sandra, 57, of Northampton, fear spending months in a US jail while awaiting trial and have asked the prime minister and home secretary to intervene.
The couple, who deny any wrongdoing, say they have not yet had charges officially put to them.
They are contesting their extradition at the High Court.
The charges relate to the period between 2002 and 2009 when they worked for an American manufacturing firm, and stem, they say, from a business dispute.
'It's just unthinkable'
Mr Dunham said: "We've been accused of things that we vehemently deny.
"We believe we have strong evidence to show that we're telling the truth, yet no one will examine the evidence without extraditing us to the US."
He said he and his wife could face months, if not years, in separate jails ahead of any trial.
"Let's just assume that the extradition goes ahead and we're sent to the US, and two years later the courts decide we're innocent," he said.
"What's going to be left for us in the UK? Our home will have gone because there's no-one to pay the bills and the mortgage. We will have no work, no jobs."
He added: "My father is 84 years of age, so who knows what may happen to him in the meantime? It's just unthinkable."
They are supported by Friends Extradited, which campaigned on behalf of Gary McKinnon, whose extradition to the US on hacking charges was blocked by Home Secretary Theresa May in 2012.
Melanie Riley, from the campaign, said: "There's a lack of opportunity to test the evidence before you are sent thousands of miles away from home.
"In some cases, it's fairer if you are tried in your own country rather than being extradited. The third issue is why do we agree to extradite people months and sometimes years before they face trial?"
Andrea Leadsom, Conservative MP for South Northamptonshire, said: "What really strikes me as awful is if they are sent out to the States and then spend potentially months in prison, having never had the opportunity to demonstrate their own innocence."
In a statement, the Home Office said: "The US requested the extradition of Paul and Sandra Dunham in 2012 to face fraud charges.
"Under UK law, the home secretary has a very limited role when considering extradition requests and only considers whether it is prohibited on specific grounds in the Extradition Act 2003.
"Guilt or innocence of the alleged crime is a matter for the trial courts.
"Mr and Mrs Dunham have appealed to the High Court and it would therefore be inappropriate to comment further while legal proceedings are ongoing."
Their appeal is due to be heard on 6 February.