Northampton St Andrew's throat-grabbing nurse struck off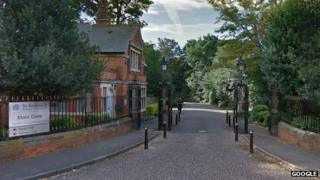 A nurse with a 35-year career who grabbed the throat of a brain-injured resident and would not let go has been struck off the register.
Yvonne Brathwaite was restraining the woman at St Andrew's Hospital in Northampton in September 2012 when she put her hand around her throat.
The Nursing and Midwifery Council heard she would not let go when told to stop.
A committee concluded there was a "significant risk" of it happening again.
The conduct and competence committee heard the resident was frequently violent and in the two weeks before had been in 286 "incidents of aggression".
'Yvonne, stop'
On 16 September, the resident was kicking and resisting, with two healthcare assistants holding her arms.
The resident was holding and biting off Ms Brathwaite's hair, with members of staff trying to make her let go.
When the hair was released from her grip, Ms Brathwaite put her hand around the woman's throat, the panel was told.
A staff nurse shouted at her several times "Yvonne, stop", or words to that effect, and a deputy ward manager physically removed Ms Brathwaite from the woman.
The woman was successfully restrained and no harm came to her, the committee was told.
Ms Brathwaite was sacked by the hospital at a disciplinary hearing, but had worked as a nurse since and was due a promotion.
She told the panel she would not have placed her hands on the woman's throat and that such an act was not in her nature.
The committee agreed it was an isolated incident in an otherwise unblemished career, but had put the resident at "unwarranted risk of harm" and was a "deliberate act of retaliation".