Northampton Abington Street traffic plan row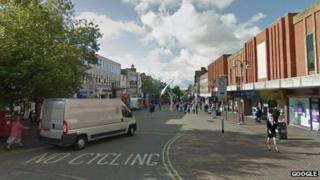 A plan to reopen part of a pedestrianised street to traffic in Northampton is being challenged by opposition councillors.
Northampton Borough Council's cabinet agreed to allocate £3m to the Abington Street scheme in December.
Liberal Democrat councillor Brendan Glynane said his party had joined opposition group Labour to ask why there had not been a "proper debate" .
Council leader David Mackintosh said there had been a "very long" process.
Under the plan, a section of Abington Street between St Giles Terrace and Wellington Street would allow traffic, in a bid to increase shoppers.
The street was closed to vehicles about 20 years ago.
Following the Conservative-led council's backing in December, the county council cabinet last week approved a traffic regulation order so that vehicles are no longer suspended from using the road.
Mr Glynane, who sits on both the borough and county councils, said: "Nowhere have the citizens of Northampton had a proper debate about £3m of their money spent on opening up Abington Street to traffic.
"When this money was decided to be given by the borough council... we called in that decision to say that there hadn't been a proper debate."
'Motion rejected'
Mr Mackintosh said the pedestrian scheme was an election pledge and a full consultation had taken place in September and October last year.
"After that consultation finished, reports were drawn up and it came back to cabinet in the middle of the December and the cabinet at the borough council endorsed that decision," he said.
"At the same time the Labour group brought a motion opposing this to full council in December so it was debated and the motion was rejected."
He said the county council then had to approve the traffic orders.
"There's been a proper process over a very long period," he said.
The county council's scrutiny committee is to decide on 30 January whether the decision should stand.