Northampton vigil remembers Utah shooting family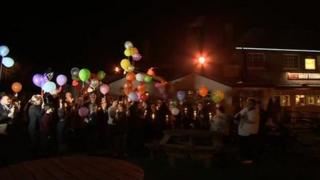 Balloons have been released at a vigil near Northampton to remember the lives of a family who were killed in the US.
Joshua Boren is thought to have shot his two young children, his wife Kelly and her mother, Marie King, before taking his own life.
A vigil was held at the Queen Eleanor pub in Wootton, south of Northampton, where Mrs Boren and Ms King had previously lived.
Ms King's sister, Jeanette Malpas, said everyone was "devastated".
"We're going to release balloons in their memory," Ms Malpas said.
"It will coincide with Kelly, Marie, Jaden and Haley's funeral in America."
'Betrayed'
The bodies were discovered last Thursday at the home in Utah.
Ms King had recently moved to America to live with the family.
Mrs Boren's father, Jeff King, told KSL he felt "betrayed, angry" and "hurt" by his son-in-law, who had been a policeman in Lincoln City.
"I can't even question him, I can't even strike out at him, he even took that away from me," he said.
"As a dad there's nothing you wouldn't do to protect your kids and I always thought he felt that way too."
Police in Utah say they are not looking for anyone else in connection to the deaths.