Barclaycard jobs: 150 posts under threat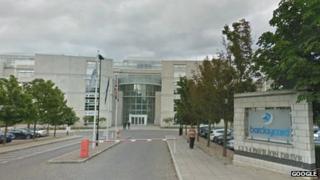 About 150 jobs could be cut at a credit card firm, with the majority of under-threat posts in Northampton.
Barclaycard, which is based on the town's Brackmills industrial estate, has said the positions could go in its operations and technology department.
The firm said it was discussing its plan with trade union Unite and hoped to keep any job losses to a "minimum".
Unite national officer Dominic Hook said there was "no need" for compulsory redundancies.
Barclaycard employs 3,000 people in Northampton.
In a statement, the company said: "We will work closely with Unite to keep potential redundancies to a minimum, and will be offering staff continuing support as we work through the consultation process.
"While this programme may impact several sites across the UK, it is expected that the majority of impacted colleagues will work within our Northampton site.
"We have, however, made substantial investment in Northampton over the years and the site remains a key strategic and operational centre."
Mr Hook said Unite would continue negotiations with the company in the coming weeks.
"It's a particularly interesting set of proposals when Barclaycard is such a successful story in terms of its finances and how much it contributes to Barclays Bank," he added.
"Just in the first nine months of 2013 it increased profit quite well, [it] made over £1bn profit so it's a very profitable part of Barclays. There is just no need to make compulsory redundancies at this time.
"They're making a case for improving technology and part of it is about outsourcing jobs to other parts of the world... so there is always some part of the operation going no matter where you are around the world."