Battle of Northampton site preservation for consultation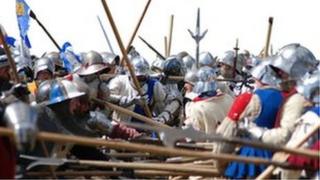 Residents in Northampton are to be consulted on the best way to preserve the site of a decisive battle in the Wars of the Roses.
The Battle of Northampton was fought in the grounds of the town's Delapre Abbey on 10 July 1460.
Yorkist Edward IV won and took the throne while the House of Lancaster led by King Henry VI collapsed.
Experts are working to uncover the site where the battle took place with a report expected by late Autumn.
Artillery was used in the battle for the first time in Britain and experts believe other discoveries are possible.
A Yorkist army of about 15,000 led by the "Kingmaker" Richard Neville, Earl of Warwick, and the 18-year-old Edward, then known as the Earl of March, attacked between 7,000 and 10,000 Lancastrians in a fortified camp.
Nation's history
The area had been designated for the development of sports fields but this plan encountered opposition from businesses on the site, local residents and conservation groups.
The borough council commissioned a survey of the battlefield which is now under way.
Tim Hadland, cabinet member for regeneration, enterprise and planning, said: "The battle of Northampton was an important event that helps tell the story of our town and the history of our nation.
"We've been working with a team of experts to uncover the site where the battle took place, and we'll be asking people's opinions on what they think about preserving it for future generations.
"We'll be announcing the consultation dates shortly and anyone interested in taking part will be able to find the information on our website."
Interested campaigners, such as the Battlefields Trust and the Medieval Siege Society, are hoping evidence will emerge that can help improve their knowledge of the time.