Anglo-Saxon remains found during Rushton excavation work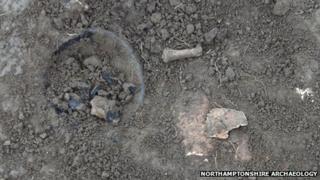 The remains of four Anglo-Saxon adults have been found in shallow graves during excavation work at a river in Northamptonshire.
The graves, 12in (30cm) below ground level, were found during the work to create a new backwater at the River Ise at Rushton near Kettering.
A 6th Century bowl was also found in the graves.
Archaeologists said they were "excited" by the graves, which have since been covered again with soil.
Jim Brown, senior project officer at Northamptonshire Archaeology, said the discovery of burial goods with the body remains indicated the people were "certainly pagan".
"The 6th Century date... suggests we're looking at settlers - people who have come here to establish a small farmstead on very good agricultural land," he said.
"They would have been subsisting at a small agricultural level."
Mr Brown said there were no plans for any further excavations at the site unless it came under threat of development.
"The best preservation is not to dig at all unless the environment changes," he said.
The £23,000 project to create the backwater - an important habitat for fish - is being led by the River Nene Regional Park and the Northamptonshire Wildlife Trust and is funded by Defra.
Simon Whitton, river restoration officer for the Nene Valley Nature Improvement Area, said they had been aware of archaeological interest in the area, so an archaeologist was on site throughout the works.
It took only took 24 hours to assess the find before the decision was taken by archaeologists to recover the graves, with soil to twice the original depth in order to protect them.
"The graves have certainly generated a lot of interest in the project," he said.
The graves were discovered in November, but the find has been kept quiet to keep the site safe from treasure hunters.