Plea for action over Northampton's St Edmund's Hospital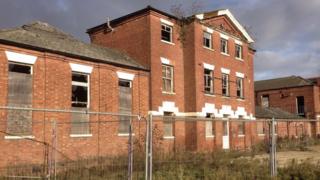 Campaigners are urging Northampton Borough Council to improve the site of a derelict hospital.
The Grade II listed St Edmund's Hospital, in Northampton, has been empty since 1998 and is now an "eyesore" to the public.
County councillor Danielle Stone, Labour, said a petition has been started because people "want action".
The Conservative council says it is in the process of "securing the future of the building".
The Wellington Road site was built as a workhouse in the 19th Century and designed by Sir George Gilbert Scott. It became a hospital in the 1930s.
'Anti-social'
Ms Stone said the building had been allowed to decay and the land could be better used for retail or housing.
"The St Edmund's Hospital site is an eyesore and continues to be a hub for anti-social behaviour," she said.
"It is a gateway site for the town centre and we need it to be attractive and welcoming."
The council said it shared the aim of seeing the building restored.
Councillor Tim Hadland, cabinet member for regeneration, said: "It is a prominent site with a lot of potential and this is very frustrating for us.
"We are in discussion with different groups about securing the future of the building but the owners are a Cypriot company so it is often difficult.
"We have served legal notices on the owners in the past and will continue to push them hard so they take their responsibilities as the owners of a listed building seriously."
The BBC has been unable to reach owner Kayalef Holdings for a comment.