BBC Radio Northampton presenter hit by police car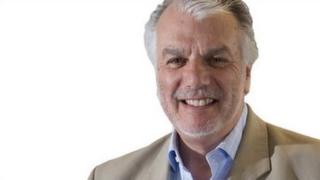 A BBC radio presenter said he was "extremely sore" after being struck by a police car while on his way to host his breakfast show.
BBC Radio Northampton's Stuart Linnell was injured in Abington Square, Northampton, at 05:40 GMT.
The broadcaster was taken to the town's hospital and has now been released.
Northamptonshire police said officers were investigating the "low-speed collision" involving a "police car and a pedestrian".
"We are in the process of talking to all of the people involved to establish what happened," said a force spokesman.
Mr Linnell, who presents his three-hour show from 06:00, tweeted: "Didn't expect to start the day in A&E! But then I didn't expect to be knocked over by a police car!"
Ian Brown initially stepped in for the broadcaster on Thursday's show before Helen Blaby took over.
Mr Linnell sustained severe bruising to his lower back and pelvis, and cuts and bruises on his face and legs.
After being discharged from hospital, he said: "I am in one piece still, so far as the doctors can tell.
"But I am extremely sore and having to take walking very, slowly. One thing I've learnt is that a road is a very unforgiving place to land on.
"I will be back on air as soon as I can."