Steven Redfern sues Corby Borough Council over 'bullying'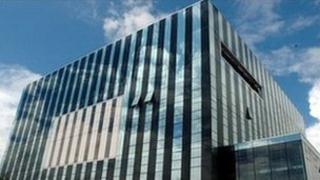 A council in Northamptonshire is being sued by a senior official over claims he was bullied to the brink of suicide after becoming a whistle-blower.
Steven Redfern, Corby Borough Council's head of property, claims he was bullied and harassed after questioning the finances of the sale of council land.
Mr Redfern's claim for substantial damages against the council has been issued at the High Court.
The council's chief executive said it would be "inappropriate" to comment.
Mr Redfern's solicitors said he was subjected to bullying after highlighting "a number of serious financial irregularities including the sale of land at St James in Corby" and "the causes of the council's overspend" in the building of town's new civic centre, The Cube.
The civic building, which houses a theatre, register office and library, was about £12m over budget.
'Very serious allegations'
Mr Redfern was involved in the Corby Cube Scrutiny Review, which investigated the overspend. Following publication of the report he said he suffered more harassment by senior officers and councillors.
His solicitors added Mr Redfern was "hospitalised after self harming in November 2012, and has been unable to work since" and that he "still suffers with severe anxiety with depressive symptoms which he claims are caused by harassment and bullying from the council's current and former chief executives...".
Des Collins, senior partner at Collins Solicitors, which is representing Mr Redfern, said: "These are very serious allegations against Corby Borough Council.
"It is only right that they should be examined fully in the High Court through the proper judicial process."
Norman Stronach, chief executive of Corby Borough Council, said in a statement: "We can confirm that a claim in the High Court for personal injury against the council has been issued by Steven Redfern.
"The claim is being dealt with in line with proper procedures and it would be inappropriate to make any further comment at this point."
The council's former chief executive Chris Mallender - who left the authority a year ago - is named in the claim. He has declined to comment.