Work on £42m A14 widening in Kettering begins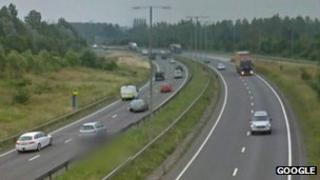 Work on a £42m project to widen the A14 in Kettering has begun.
The work will result in an extra lane each way between junction 7 and 9, which will "reduce congestion, promote economic growth and improve journey times", the Highways Agency said.
A 40mph (65km/h) speed limit will be put in place for the duration of the work, which will also see a number of overnight carriageway closures.
Work is expected to be completed early in 2015.
The widening project, which was proposed to deal with extra traffic from about 40,000 new homes which are due to be built in the area, was approved by the Secretary of State for Transport in June.