Nightclub goers to be searched after Northampton stabbing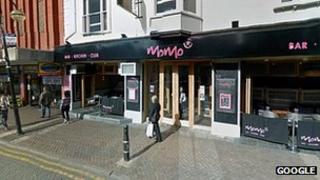 Half the people entering a nightclub in Northampton will have to be searched after two men were stabbed in the bar.
Police asked Northampton Council to look at the Momo Bar in Abington Street after the men, aged 18 and 19, were attacked in the men's toilets.
The council's licensing committee has added a condition to the bar's licence saying 50% of customers should be searched.
No-one from the Momo Bar was available to comment.
The council will conduct a full review of the nightclub in the new year.
Northamptonshire Police said they accepted the decision of the committee, welcomed the extra security measure and looked forward to the full review.
David Mackintosh, leader of Northampton Borough Council, said: "The summary review was held at the request of Northamptonshire Police following an incident last week. The subcommittee agreed to a full review being held next month, and that in the meantime extra security measures are put in place to minimise any future risk.
"The date of the full review will be announced in the new year."
The attack happened on 27 December between 02:30 and 03:00 GMT.
The 19-year-old was taken to University Hospital Coventry and was in a stable condition, said police. The 18-year-old also required medical attention.