Queen asserts mineral rights in Raunds and Irchester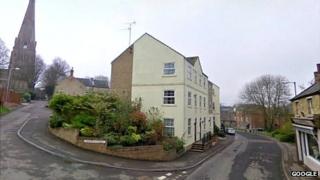 More than 2,500 homeowners in Northamptonshire have been sent letters telling them the Queen has rights over minerals under their properties.
The Duchy of Lancaster, the Queen's private estate, has told people in Raunds and Irchester it is registering its "manorial" ownership.
Mary Richardson, who has lived in her house in Raunds for 44 years, said the notice was "alarming".
A Duchy spokesman said letters were reminders of centuries-old "rights".
The Land Registry said 1,972 notices were sent to householders in Raunds and 648 in Irchester.
'Bit of England'
The Land Registration Act passed in 2002 states all owners of ancients rights to minerals must officially register them by October 2013.
Mrs Richardson received the notice sent by the Land Registry on behalf of the Duchy last week.
"It sets out the fact that the Duchy of Lancaster has the right to minerals, etc, under your land," she said.
"Even though you think you own your own little bit of England, you only actually own the surface land.
"I've had to read it through quite a few times and at first I was a bit alarmed about it."
Nathan Thompson, of the Duchy, said: "The Duchy of Lancaster has owned these manorial mineral rights for many centuries and is having to register these rights with the Land Registry in order to preserve them for the future because of the change in legislation.''
Iron ore was once mined in the county.