Corby David Ross murder: Hunt for man and Volvo driver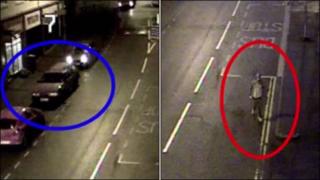 A man captured on CCTV crossing a road - metres from where a nightclub boss was being beaten to death - is still being sought by murder detectives.
David "Les" Ross, 39, was in hiding in a hotel in The Jamb, Corby, when he was killed on 17 December 2012.
Police said several people seen on CCTV at that time had now been identified after footage was played in The Jamb on Monday.
They said a pedestrian and a Volvo driver were yet to come forward.
Several people have been arrested and bailed in the inquiry but no-one has been charged with Mr Ross's murder.
'Uncommon car'
In the CCTV footage, the pedestrian, a man in a jacket with the hood up, crosses The Jamb towards the hotel at about 07:27 GMT - a time when police believe Mr Ross could have been murdered.
The man appears to look towards the side of the street he is approaching, but changes direction at the central white line.
He heads back towards the pavement and, while walking, looks back to the other side of the road for about two or three seconds.
The unidentified red old-style "square" Volvo estate - described by police as an "uncommon car" - parks near the hotel at 05:29 GMT.
Mr Ross, of Corby, had recently been burgled and was staying at the Village Inn Express.
Police said he was being intimidated by an organised criminal gang who wanted his share of Rubix nightclub in the town so they could launder money through it.
He was kicked and punched to death in his hotel room at some point between 07:00 and 08:00 GMT.
Police believe his killers were tipped off that he was staying at the hotel and said they have found no evidence he was involved in criminality.
On Monday, police erected a large screen in The Jamb to show CCTV footage taken in the area of The Jamb on the morning of 17 December 2012.
Det Ch Insp Martin Kinchin said officers spoke to hundreds of people and one person was was able to identify themselves on the footage for the first time.
"'Les' Ross was an ordinary man who was struck down at a time when he was finally realising his dreams and making headway in his life - police do not believe he was the only person who has been intimidated in this way," he said.
"At first some people were reluctant to come forward, but we have worked hard to build trust and people are now more confident they can safely talk to us."