Northamptonshire waste centres consider £1 charge per visit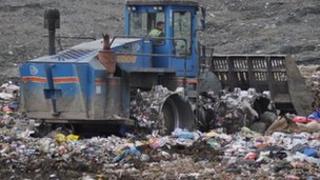 A proposal to charge people to visit Northamptonshire's household waste recycling centres would lead to more fly-tipping, it has been claimed.
The council is considering charging £1 for visits to its 10 tips from next year, but the Green Party said it would dissuade people from using them.
The Conservative-run authority said the "nominal" charge would not put people off, but could help offset some cuts.
The centres are run by contractors and are currently free to visit.
The council said it is cutting £128m from its budget over four years and was looking to find £1m of that from waste disposal.
'No deal-breaker'
Tony Clarke, a Green Party campaigner, said: "It's going to increase fly-tipping and these councils should be environmentally responsible.
"What you got here is one council taking a measure to save money by bringing income in, which will mean more stuff being dumped on roadsides, which the borough councils will then have to pay to collect."
Councillor Michael Clarke, county council cabinet member for the environment, said: "You will always have a very small minority who will fly-tip, but the vast majority attach value to recycling centres.
"People already spend money on petrol in getting to the centres, so asking them to pay an extra £1 is not going to be a deal-breaker.
"The income we would generate from a nominal charge would go a long way to bringing in the savings for the benefit of council tax payers."
The council said it would be consulting on the charging idea which was part of its budget proposals for 2014-15.