Northampton free car parking to plan will cost council £665k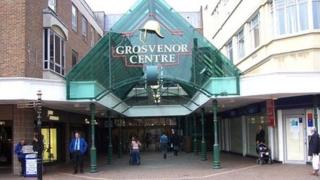 A plan to introduce free car parking in Northampton town centre will cost a council more than £650,000, officials have said.
The Borough Council said its £30m budget for 2014-2015 aimed to encourage people to shop locally.
The plan would see motorists offered two hours of free parking at four multi-storey car parks during the week and all day on Saturdays.
The council said it would mean a cut in revenue of £664,783.
David Mackintosh, leader of Northampton Borough Council, said funding from central government had fallen and they had been forced to find ways to take forward regeneration plans "that will make Northampton more prosperous in the long term".
The council, which intends to freeze its part of the council tax, said around £1m had been saved by halving the number of senior managers and sharing services with other authorities, leaving a shortfall of around £2 million to be found in the coming financial year.
This shortfall will be met by a further programme of restructures and cost savings to create a leaner and more efficient organisation.
A final decision will be made on the budget in February.