Northampton St Peter's Waterside office plans unveiled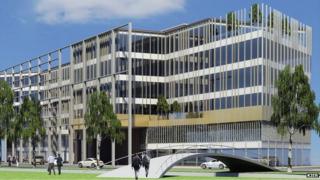 Plans for a large office block on a former gas holder site, as part of the regeneration of Northampton, have been unveiled.
The project forms part of the St Peter's Waterside development by the River Nene.
Work to dismantle the giant Victorian gas holder, which had been redundant since the 1960s, started last month.
Millions of pounds is currently being pumped into Northampton to rejuvenate brownfield sites and increase jobs.
In the next few years it will have a new bus station, innovation centre, town centre campus for the University of Northampton and an upgraded railway station and Grosvenor shopping centre.