Anxiang Du jailed for Ding family murders in Northampton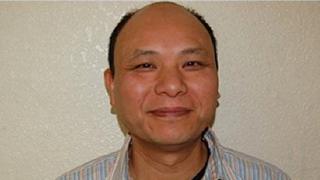 A man who murdered a family of four in a revenge attack has been jailed for life with a minimum of 40 years.
Anxiang Du stabbed Jifeng "Jeff" Ding, his wife Ge "Helen" Chui, and their daughters Xing and Alice to death at their Northampton home in April 2011.
He had lost a legal case against the couple and faced a bill of £88,000, Northampton Crown Court heard.
Sentencing Du, Mr Justice Flaux said: "There can be no doubt that this was savage butchery on your part."
Du, from Coventry, stabbed the family with "ruthless efficiency" after travelling to their home by train and bus on 29 April 2011 - the day of the royal wedding between the Duke and Duchess of Cambridge.
He demanded money from Manchester Metropolitan University lecturer Mr Ding and, when he refused, he stabbed him 23 times and his wife 13 times.
Mr Justice Flaux said Du had "executed" the couple. He then went upstairs to a bedroom and killed their daughters Xing, 18, who was also known as Nancy, and 12-year-old Alice.
'Defenceless girls'
A-level student Xing, who had secured a place to study medicine at university, had 11 stab wounds. Her sister had four.
A 999 call made from a mobile phone during the murders featured the sisters' terrified screams and was played to the jury during the trial.
Mr Justice Flaux said: "Not content with the slaughter of the parents downstairs, you then went upstairs to the back bedroom where the two young Ding girls were cowering.
"It is apparent from the fact that Nancy's mobile made the 999 call, that they had heard what was happening downstairs and she was frantically trying to ring the police for help.
"At that moment it seems you came into the room and within a short period of time you had also murdered those poor defenceless girls."
Du then laid down and slept in the house, then later woke up and stole the family's car and tried to find another business partner.
'Not mandatory'
"Mercifully, either you could not find his house or he was not at home, so he escaped your continuing calculated revenge," said Mr Justice Flaux.
The family's bodies were not discovered for two days.
Du fled the UK was eventually arrested 14 months later in Morocco.
He admitted the killings but claimed he should be convicted of manslaughter on the basis of either diminished responsibility or loss of control.
Explaining his decision not to give Du a whole life order, Mr Justice Flaux cited a European Court of Human Rights ruling that such tariffs breach a prisoner's human rights.
He also quoted case law that the order was reserved for "the few exceptionally serious offences... when the judge is satisfied that the element of just punishment and retribution requires the imposition of a whole life order. It is not a mandatory or automatic or minimum sentence".