Ding family murders: 'Mistakes' in 999 response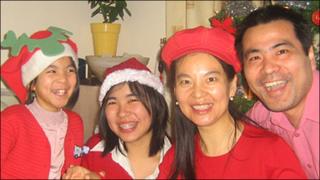 A detective has admitted "mistakes" were made in responding to a 999 call from one of the victims of a man who murdered a family of four.
Anxiang Du was on the run for 14 months after stabbing the Ding family to death in their home in Northampton in 2011.
Their bodies were not found for two days, despite a frantic 999 call from a mobile as Du carried out the killings.
Det Supt Tom Davies said: "We don't know what may have happened had we responded correctly."
Jifeng "Jeff" Ding, his wife, Ge "Helen" Chui, and daughters Xing, 18, and Alice, 12, were stabbed a total of 51 times on the afternoon of 29 April, 2011.
Det Supt Davies said: "We certainly recognise that when we had the 999 call that wasn't responded to properly that that was an opportunity for officers to be deployed to that address.
"Whether or not those officers would have found Anxiang Du at the address is open to debate."
Terrified screams
Du's trial heard that he spent some hours at the Dings' house after the murders, and that a body could be seen through a ground-floor window.
The 999 call, made from Alice's phone, featured the terrified screams of both girls and was played to the jury during Du's trial.
The line then went dead.
The call was found to have been "badly mishandled" by the force, resulting in officers being sent to the wrong address and the emergency call being considered closed when nothing untoward was found at that location.
An investigation by the Independent Police Complaints Commission said: "Had police used more detailed checks and a mapping system available to them, the need for a subscriber check would have been established, the correct address in Pioneer Close would have been identified and in all likelihood attended by officers within minutes."
Found by neighbour
Police have said it was "unlikely" the Ding family could have been saved, but admitted it was possible that Du could have still been at the address if officers had been dispatched there.
Pathologist Guy Rutty told jurors the family would have died of their stab wounds shortly after they were inflicted due to the blood loss.
However, jurors also heard Du remained in the Northamptonshire area until late in the evening.
Neighbour Jason Horsley alerted police after checking on the Dings' home on 1 May and seeing a body through the kitchen window.
Earlier that day, officers had visited the house but simply posted a card though the letterbox and left.
They had been asked to visit the Dings by West Midlands Police after Du was reported missing by his wife.