Doctor Who: Titchmarsh phone box in Tardis tribute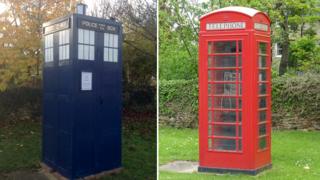 A classic red telephone box at the heart of a Northamptonshire village has re-materialised as a Tardis to mark Doctor Who's 50th anniversary.
The Titchmarsh High Street phone box was adopted by the village hall for £1 a year ago and has regenerated through a number of "artistic" makeovers.
The 8ft 6in (2.6m) tall Tardis took a team of four people 10 days to create, which was "quite a challenge".
Village resident Val Sorrell said it was "a corker" of a transformation.
John Gaskin, from the Clubroom, which serves as the village hall, said: "We adopted it as a red phone box is an icon of the English village high street, but we didn't know at the time what we were going to use it for."
Suggestions were made by villagers to turn it into a library or a fish tank, but it soon became the base for "guerrilla art", inspired by the idea of guerrilla knitting or yarn bombing - a type of street art or graffiti using items made from yarn that appears overnight.
Mr Gaskin, who had the idea to create a Tardis, said: "We used four sheets of ply and painted the outside with the windows and door sign - it took ages, about 10 days work - with lots and lots of painting.
"Four of us carried it slowly to the site and then spent about an hour assembling it around the phone box - it was quite a challenge."
'Titchmarsh Fairies'
Over the last 12 months, the phone box, which no longer houses a telephone, has been decorated to mark the village's fete, the Queen's Jubilee, Halloween and Children in Need.
Liz Townson, who helped create the Tardis with Hayley Wood, said: "We've had lots of feedback from people saying they really like it.
"Hayley, John and I have owned up to creating this one, but generally if people ask we say 'It's the Titchmarsh Fairies' as it's more fun when the box changes without people really knowing anything about it."
Ms Townson admitted she was responsible for a number of the phone box art installations, but was surprised herself when it was transformed for a wedding.
"It's lovely when we don't do them because we then get to enjoy the surprise of a new installation along with the rest of the village," she said.
"We want the idea of the 'art box' to be embraced by everybody. There are no rules except that it shouldn't offend and that whoever puts one up must take it down."
The Titchmarsh Tardis is expected to stay in the village for a couple of weeks before it dematerialises.